In comics, plewds are one or a few
sweat drops
drawn spilling away from a character's head. In manga and anime, this can symbolize worry, vexation, impatience, or relief, and it's drawn more commonly in manga than in anime.
aseri
焦り
Anxiety. Impatience. A feeling of urgency when things aren't going the way you want.

aseru
焦る
To feel anxious. To feel impatient.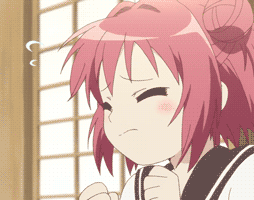 Character: Akaza Akari 赤座あかり
Anime: Yuru Yuri ゆるゆり (Episode 1)
Read more »