In manga,
unifura
ウニフラ, or "uni flash,"
uni furasshu
ウニフラッシュ, is flash of light with a black outline that looks like a "sea urchin,"
uni
雲丹.
The uni flash is drawn like the
beta flash
, using
focus lines
, except that instead of a black background they're placed on just any background.
Typically, they're used as speech balloons, or rather, as thought balloons.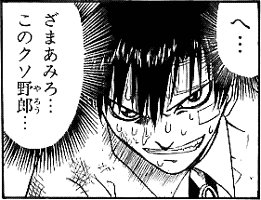 Manga: Zatch Bell!, Konjiki no Gash!! 金色のガッシュ!! (Chapter 5, 道具か人間か!?)
Read more »