In manga,
beta-me
ベタ目 are
eyes
drawn completely black, without highlight or distinct iris and pupil, or eyes draw in a single color other than black other than black, or eyes drawn without a highlight.
It's also spelled
beta-me
ベタ眼.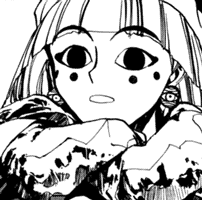 Character: Shinkouhyou 申公豹
Manga: Houshin Engi 封神演義 (Chapter 8, 序章の終わり)
Basically, in manga
beta ベタ
means an area filled with black ink, but eyes drawn pure black in manga are sometimes drawn with highlights in close-up panels, or in anime adaptations, so the term is kind of vague.
Read more »